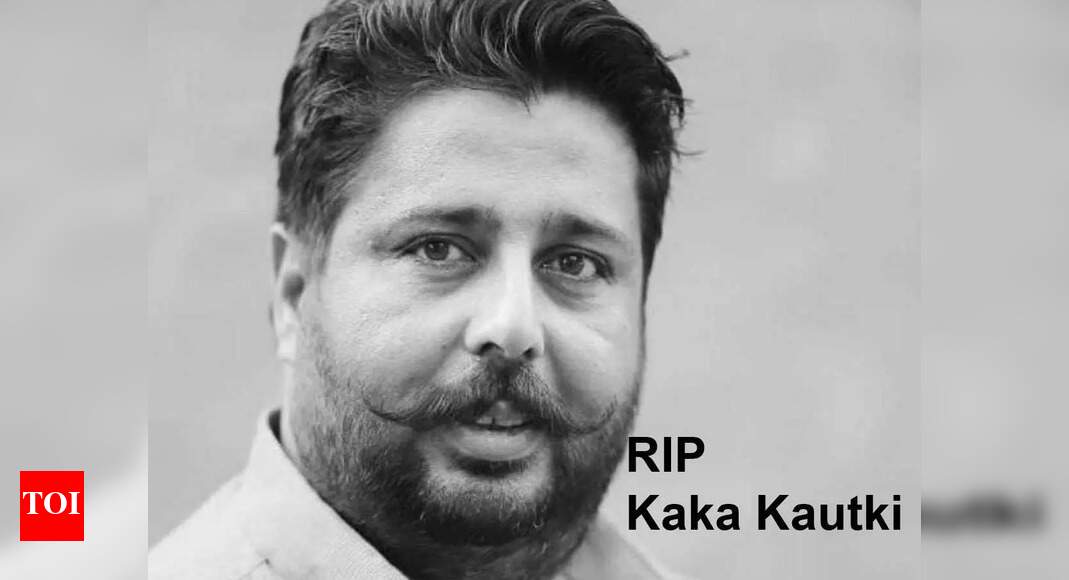 Today the world of Punjabi entertainment has suffered a huge loss, as one of the very famous and talented Pollywood actor Kaka
Kautki
's has passed away. According to the reports,
Kaka
had a heart attack, which led to his sudden demise. His last rites will be performed today at 1 pm.
This news has left everyone in grief. Many of Kaka's co-stars from the Pollywood industry have taken to their social media handles to share their condolences.

Sharing the picture of the late actor Kaka Kautki, Karamjit Anmol writes – "ਅਲਵਿਦਾ ਕਾਕਾ ਕੌਤਕੀ ਵੀਰ ਵਾਹਿਗੁਰੂ ਤੈਨੂੰ ਆਪਣੇ ਚਰਨਾ ਵਿੱਚ ਨਿਵਾਸ ਬਖ਼ਸ਼ਣ ਤੇ ਪਰਿਵਾਰ ਨੂੰ ਭਾਣਾ ਮੰਨਣ ਦਾ ਬਲ ਬਖ਼ਸ਼ਣ RIP" (Goodbye Kaka Kautki Veer. May God give you abode in his feet and give strength to your family)
Further, singer-actor Gurnam Bhullar, who has worked with Kaka in 'Surkhi Bindi', pens – "Yrr ehh kaise rang ne waheguru de 🙏🏻 R.I.P kaka bai 🙏🏻". Gurnam and Kaka were again supposed to work together in the upcoming movie 'Lekh'.
Raghveer Boli posts – "ਯਕੀਨ ਨੀ ਹੋ ਰਿਹਾ ਯਰ 😞 ਕਾਕੇ ਬਾਈ ਆ ਕੌਤਕ ਕੋਈ ਵਧੀਆ ਨੀ ਕੀਤਾ ਤੂੰ😞😥ਅਜੇ ਤਾਂ ਭਰਾਵਾ ਇੰਨਾ ਕੰਮ ਕਰਨਾ ਸੀ 😥 ਬਹੁਤ ਹੱਸਮੁੱਖ ਨੇਕ ਰੂਹ ਸਾਨੂੰ ਛੱਡਕੇ ਚਲੀ ਗਈ 🙏🏻 ਵਾਹਿਗੁਰੂ ਆਤਮਾਂ ਨੂੰ ਸ਼ਾਂਤੀ ਦੇਣ ਬਾਈ 🙏🏻🙏🏻 (I can't believe it, Kaka veer you didn't do right by us, by leaving us this way. You were supposed to do so much work in the field.A very cheerful good soul left us. May God give peace to souls)"
Singer-lyricist Happy Raikoti also shares a picture of the late actor and in the caption he writes – "Bai Bahut Fan C Tera Yaara Hale Tan Milia V Ni C tenu Par Tere Bare jagdeep Sidhu Bai Nal Gall Hoi C Ik Do Var Par Ik Change Adakar Nu Milan Da Supna Ee Reh Gya Sachioo Changa Ni Kita Rabba 😢#kakakautki"
Binnu Dhillo too shares a post for the Kaka – "ਕਾਕਾ ਵੀਰ ਸਾਡੇ 'ਚ ਨਹੀਂ ਰਿਹਾ , ਵਿਸ਼ਵਾਸ ਨੀ ਹੋ ਰਿਹਾ। ਵਾਹਿਗੁਰੂ ਪਰਿਵਾਰ ਨੂੰ ਭਾਣਾ ਮੰਨਣ ਦਾ ਬਲ ਬਖਸ਼ੀਂ ।🙏(Kaka veer is no longer with us, I can't believe it. May God give strength to the family)"
Late actor Kaka Kautki has been a part of many popular Punjabi movies. Some of his recent works include – 'Sufna', 'Surkhi Bindi' and 'Bhajjo Veeroo Ve'. His demise has snatched away a very skilled artist from the industry, and no amount of words can be enough to express the grief that his near and dear ones as well as the fans are feeling.